Amsec Drop Safe DSR2714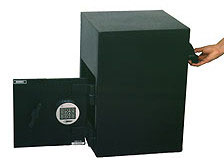 SAFE FEATURES:
AMSEC'S DS SERIES DEPOSITORY SAFES are designed to provide immediate deposits and storage for cash, jewelry and miscellaneous valuables.
Deposits can be made through a locked door via a top-loading rotary hopper, a reverse or a front-loading deposit door.
BODY:
· Strong, formed "B" Rate construction made of A36 solid steel plate for improved security and appearance.
· Formed door jamb for increased resistance to sledgehammer attack.
· Four anchor bolt holes are standard.
· DOOR - MODEL NUMBERS: 2014, 2714 AND 3214
· ½" thick A36 solid steel plate, recessed ½" to increase resistance to pry attack.
· U.L. Group II combo lock (C), U.L. listed dual nose keylock (K).
· Optional electronic locks available.
· Three 1" diameter chromed steel locking bolts.
· Bolt detent system engages boltwork automatically.
· Auxiliary spring-loaded relocking device.
· Lock and relock protected by large carburized hardplate.
Order Now! Email
hookway@optonline.net
or call us at 1-800-345-6552 for professional consultation.
We ship safes to the entire United States.