Amsec Drop Safe DSF2714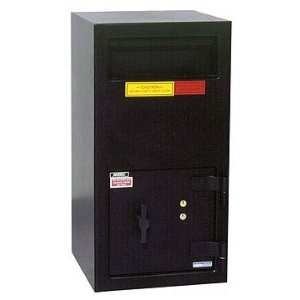 SAFE FEATURES
Body:
Strong, formed "B" Rate construction made of A36 solid steel plate for improved security and appearance.
Formed door jamb for increased resistance to sledgehammer attack.
Four anchor bolt holes are standard.
Total Weight: 108 lbs.
Door:
1/2" thick A36 solid steel plate, recessed 1/2" to increase resistance to pry attack.
Three 1" diameter chromed steel locking bolts.
Bolt detent system engages boltwork automatically.
Auxiliary spring-loaded relocking device.
Lock and relock protected by large carburized hardplate
*LOCK OPTIONS:
Picture (Image) 1: Key Lock: $785.00
Option 2 (Not Pictured): Combo Lock: $815.00
Option 3 (Not Pictured): Electronic Lock: $915.00
SAFE SPECIFICATIONS

AMSEC's DS series Depository safes are designed to provide immediate deposits and secure storage for cash, jewelry, and miscellaneous valuables. Deposits can be made through the front-loading deposit door.
Order Now! Email
[email protected]

.net
or call us at 1-800-345-6552 for professional consultation.
We ship safes to the entire United States.