Amsec Wall Safe WS1814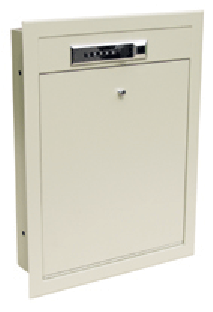 DISCONTINUED SAFE
WS1814 Features:
Solid steel construction with a 3/16" pry-resistant door offers excellent burglary protection
Equipped with AMSEC's 5BE electronic push button lock. Fast and easy to use.
Built-in enhanced LED interior lighting is activated when door is opened.
Desktop door design provides a convenient workstation.
Comes standard with two storage shelves or one shelf with hanging file rack.
An Open Door Signaling feature provides an output signal whenever the door is in the open position, so that an Alarm System can notify the user or a monitoring service that the safe is unlocked.
A Silent Signal Alarm feature allows the user to secretly signal a monitoring service that an intruder is in the home.
Model
No.

Inside
H x W x D

Outside
H x W x D

Door
Opening

Cubic Feet

Wt.
Lbs

Interior
Shelves

WS1814
(2X4 Inst.)

15-3/8 X 13-11/16 X 3-5/8

18-7/8 X 14 X 4

15 X 13-1/4

.44

32

2
Order Online Now or call 1-800-654-5213
for professional consultation with a Lacka Safe Representative.
We ship safes to the entire United States.