Amsec Wall Safe WS1214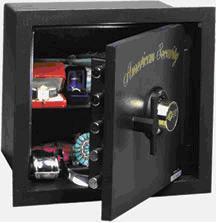 FEATURES
Heavy-Duty WS1214 Features:

3/4" thick solid steel door, recessed for flush mounting.
Heavy-duty "B" rate fully welded body construction.

U.L. Group II combination lock with internal relock device (electronic lock optional)

An additional spring loaded relocking device, activated by a punch attack.

Locks and relocks protected by a large carburized hardplate.

A handle activated locking mechanism consisting of five 3/4" diameter chrome steel locking bolts.

One piece heavy-duty dead bar.

Attractive black finish with brass plated dial and gold emblem.
Model
No.

Inside
H x W x D

Outside
H x W x D

Door
Opening

Cubic Feet

Wt.
Lbs

Interior
Shelves

WS1214

12 x 13-1/2 x 5-1/2

12-5/8 x 14-1/8 x 10

10-3/4 x 11-1/8

.52

86

2
Order Now! Email
hookway@optonline.net
or call us at 1-800-345-6552 for professional consultation.
We ship safes to the entire United States.