Amsec Wall Safe WS 1014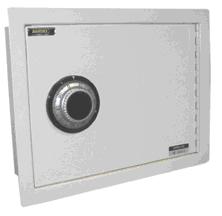 FEATURES
U.L. listed Group II key changeable lock, with relock and 1 million possible combinations
Flat dial allows flush mounted installation.
WS1014: 3/16" thick solid steel door with dead bar.
Continuous non-removable hinge.
AMSEC Wall safes are designed to provide hidden protection for documents and miscellaneous valuables. Each wall safe is also designed for easy installation between 16 o/c wall studs with pre-drilled anchor holes and a built-in flange eliminating unnecessary replastering.
Model
No.

Inside
H x W x D

Outside
H x W x D

Door
Opening

Cubic Feet

Wt.
Lbs

Interior
Shelves

WS1014

10 x 13-3/4 x 3-1/2

12-1/4 x 15-3/4 x 4

9-5/8 x 12-3/4

.23

22

1
Order Now! Email
hookway@optonline.net
or call us at 1-800-345-6552 for professional consultation.
We ship safes to the entire United States.