Amsec Vault Door VD8030SF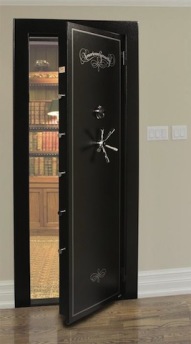 VAULT FEATURES
Vault Door: A Full 2 Inches Thick including a powerful defense barrier of Dual Layers of 1/8" Steel and 1/4" Steel Plates with composite fire resistant material creating a burglary and fire resistant vault door.
Vault Equipped with a Group II High Security Lock supported by a massive hard plate and, two ReLockers
Lock & Handle: Mechanical Lock has spy proof dial. Turn Handle is a 5 spoke handle available in polished brass, chrome or, black nickel.
Locking Bolts: 10 Total 1 1/2" Chrome Plated Bolts
Vault Door Hinges are Commercial Grade ensuring smooth opening and closing
Fire Resistant Feature: 2 Fire seals with silicone on the door jamb and, Palusol© on the door as well.
Adjustable Door Frame: A new feature, the adjustable door frame now slides together to allow the vault door to fit into wall thicknesses between 4 3/4" up to 9 3/4"
Safety Lock Release: This feature allows you to safely exit the vault room from the inside. In addition, you can close and lock the door from the inside when it is equipped with an electronic lock.
SAFE ROOM: With the safety lock release feature, you can effectively use your vault as a safe room if the need were to arise.
SAFE SPECIFICATIONS
Model
No.

Minimum Opening
Requied

H x W

Minimum Opening Requied
H x W x D*

In-Swing Door
Opening

Weight

VD8030SF

79½ x 29½

77½ x 24¾

77½ x 19 3/16

523 lbs.
Color Options
Sandstone
Granite
Black
Chocolate Brown
Hardware Options
Brass
Chrome
Black Nickel

Order Now! Email
hookway@optonline.net
or call us at 1-800-345-6552 for professional consultation.
We ship safes to the entire United States. White Glove Installation also available.