ISM Super Treasury UL TRTL 30x6 Model 3326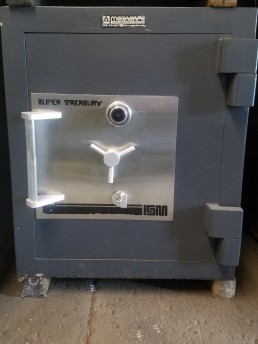 SAFE FEATURES
Safe Dimensions:
Outside Dimensions (inches): 42.5h x 36w x 29.5d
Inside Dimensions (inches): 33h x 26w x 17d
Cubic Feet: 8.4
Selves: 2
Weight: 2,235 lbs
SAFE DETAILS
Maximum security is assured by the utilization of Alchronite, ISM's patented cast alloy defense material. Its unique design and one-piece "tailored" body cast provides consistent protection throughout, proven to withstand concentrated torch, flux, tool, and explosive attacks.
UL Group 1 Manipulation Resistant Combination Lock & High Security Key Lock
Glass Plate Protection/Random Re-locking Devices
Protection From Side Attacks On Interlocking Boltwork/ Locking Mechanism
Fire Protection
All of our pre-owned safes are professionally resstored with our exclusive three coat paint process (not rolled on). All the mechanisms are professionally inspected and must pass our rigorous testing. The results are a safe that looks and feels like new.
Email [email protected] or call us at 1-800-345-6552 for professional consultation with a Hooway Safe Representative.