Gardall Burglary Fire Safe Z1812-2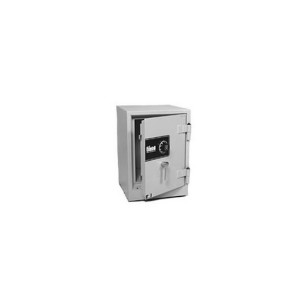 Z1812 Safe Feature:
Class "B" Rated interior safe construction. Door of inner safe will interchange with other Gardall safes key lock or combination.
Fire Resistive Exterior Safe – Insulated to withstand 1850°F for 2 hours.
Finest Quality Combination Locks – U.L. listed Group II with built-in relocking device or key-op lock.
Relocking Device – If back cover is knocked off of the lock, the independent relock device is activated, preventing bolt withdrawal.
Boltwork Interior Door – Triple boltwork with independent relock device.
Boltwork Exterior Door – Interlocking bolts extend into the safe walls, full length locking bar on hinge side of door to deter forcible entry by removal of hinges.
Hard plate on both interior and exterior door.
Available with electronic push-button lock
Z1812 Safe Specifications:
External Dimensions: 25.00" H x 17.25" W x 19.75" D
Internal Dimensions: 9.75" H x 11.00" W x 8.00" D
Interior Cubic Ft: 0.50
Weight: 365 lbs
Burglar Rating: B-Rate
Fire Rating: 2 Hours
Order Now! Email
[email protected]

net
or call us at 1-800-345-6552 for professional consultation.
We ship safes to the entire United States.