AMSEC Fire Safe FS914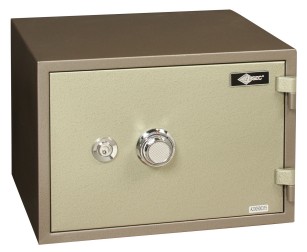 Safe specifications and Features:
External Dimensions: 13.5" H x 19.13" W x 15.75" D
Internal Dimensions: 8.38" H x 14.00" W x 10.75" D
Interior Cubic Feet: 0.73
Weight: 96 lbs
350°F 1-Hour U.L. listed fire rating.
One (1) internal anchor hole and hardware, four (4) rubber feet and one (1) drawer shelf.
Key-operated side-locking mechanism incorporating two chromed locking bolts.
Two deadbolts prevent door removal if hinges are removed during a forced entry attempt.
Attractive two-toned sage finish.
An economical solution for fire protection, the FS914 is U.L. listed 350 degrees F for 1 hour.

Order Now! Email
[email protected]

net
or call us at 1-800-345-6552 for professional consultation.
We ship safes to the entire United States.