Amsec Electronic Strong Box EST1014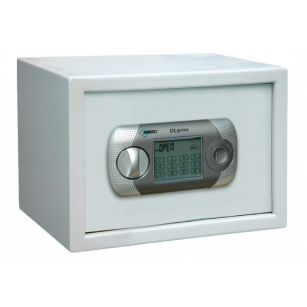 SAFE FEATURES
Heavy 14 gauge solid steel construction
Dual live bolts made of heavy gauge steel.
Safe can be bolted to floor or wall.
Bottom of safe carpeted
Pry-resistant recessed door with internal hinges for anti-theft protection.
Mounting feet and anchor hardware standard.
One (1) removable shelf.
User Friendly Lock is the DL5000 "LCD" Touch Screen Electronic Lock which has a large 3 3/4" touch screen LCD input display. Easy operation.
Mode altering display changes from orange in standby mode to bright blue in the open position.
Accepts 2 user codes and can show open door records for the past 14 entries.
LCD touch screen display shows low-battery indicator, time, date and keypad.
Emergency key-lock override system with two (2) keys, power override battery box, built-in spy-proof function and motion detector alert.
SAFE SPECIFICATIONS

INSIDE DIMENSIONS(INCHES): 9.56" Wide 13.94" Deep 7.75" High
OUTSIDE DIMENSIONS(INCHES): 9.75" Wide 14.13" Deep 9.75" High
WEIGHT(LBS.): 38 lbs.
Order Now! Email
[email protected]

net
or call us at 1-800-345-6552 for professional consultation.
We ship safes to the entire United States.