American Security In-Room Electronic Safe IRC916E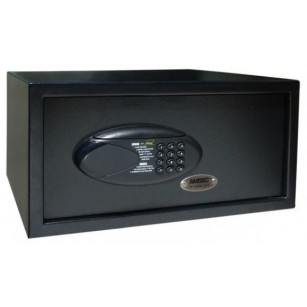 SAFE FEATURES:
Inside Dimensions: 8.8125 x 15.8125 x 12
Outside Dimensions: 9 x 16 x 14
Cubic Inches: 1,672
Clear Door: 6.5625 x 13
Weight: 29 lbs
Great protection against burglars.
Lock-Out Penalty: the safe locks up for 15minutes if the combination is entered wrongly.
Emergency key-lock override system with 2 keys.
2 anchor holes with hardware for mounting included. The carpeted bottom covers the anchor holes.
Easy to read, large LED display lets you know the status of the safe.
Runs on 4 AA batteries. If batteries should go dead, each safe has a by-pass power cable (9v battery required).
This safe is designed for people who travel a lot and it will adequately secure jewelry, cameras, laptops and other valuables in the most user-friendly way.
Order Now! Email
[email protected]

net
or call us at 1-800-345-6552 for professional consultation.
We ship safes to the entire United States.