AMSEC SafeWizard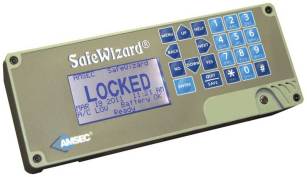 SafeWizard Features:
A powerful processor based on the ColdFire® 32-bit microprocessor.
Flash memory for quick and cost-effective upgrades.
Up to 10,000 audit entries and 40 users.
Ultra-high contrast 8 line by 21 character graphics display.
Rechargeable Battery Backup.
Built-in System Diagnostics.
Parallel Printer Interface.
English, Spanish and German language options.
Controls the Outer Security Door and Inner Back-stock Drawers.
Programmable 1 to 99 minute Time Delay on the outer doors or the inner Back-stock drawers.
Set up predetermined user authority level (UAL) facilitating administration at any desired level.
Programmable Time Lock on the outer doors or the inner Back-stock drawers.
Authentication options: Advanced Bio-Metric technology and PIN code access control depending on level of authorization.
Wrong Try Count Penalty Lockout.
Duress/Hold-up Alarm with Silent Signal.
Burglary Alarm output triggering from selectable events.
Holiday Schedule with up to 16 programmable events per year.
Automatic Daylight Savings Adjustment, selectable and configurable.
Log and Record all user entries to the safe with the Audit utility that allows PC based audit storage management, data filter and sorting capabilities and excellent exception reporting to focus on key security issues.
The SafeWizard has audit trail functionality that gives specific access to up to 40 users. Each user can have a different access level. The lock will track the time and who entered the safe. The lock comes with features like available fingerprint access and a duress/hold up alarm. You can rest assured that the SafeWizard will help you safe guard your controlled medications in every way possible!
Order Now! Email
hookway@optonline.net
or call us at 1-800-345-6552 for professional consultation.
We ship safes to the entire United States.