AMSEC Premium Door Organizer Kit Model 19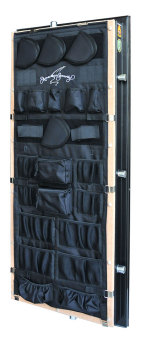 Specifications of the AMSEC Premium Door Organizer
Various see-through pouches and zippered pockets to store valuables.
Two rows of holders for storage of choke tubes, small flashlights and ammo.
Two full-width pistol storage systems to accommodate multiple handguns. Comes with four holsters. Additional holsters can be purchased separately.
A long gun storage system that accommodates two long guns. Includes the AMSEC exclusive "no hassle" quick release band.
PDO Size: 48-1/2"H x 19"W
Maximum Door Panel Height & WidthAdjustable from:
48-1/2" H to 51-1/4" H / 20-3/4" W to 25" W
Maximum Door Panel Height & Width with Extension Strap Kit Adjustable from:
48-1/2" H to 57-3/4" H / 20-3/4" W to 34" W
When it comes to Door Panel Organizers getting the right fit and style for your Gun Safe is crucial. The American Security Door Panel Organizer Pistol Kit Model 19 comes equipped with 4 pistol holsters (with lots of space for more), 2 rifle holsters, Zip Pockets, Choke Tube Holders, and document storage pockets.

It will attach to any interior door of a safe that has a 5/8 inch thick fire board and uses ten clips two on the top, three on each side and two on the bottom to attach. It can hold from 40 to 70 pounds depending on the size of the panel. This model the 19 measures 19 inches wide by 48-1/2 inches tall and will fit on any interior safe door that measures a minimum width of 19-1/2 inches and no wider than 24 inches.
Order Now! Email
hookway@optonline.net
or call us at 1-800-345-6552 for professional consultation.
We ship safes to the entire United States.