AMSEC Premium Door Organizer Kit Model 13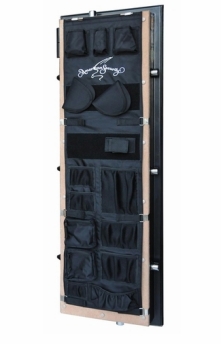 Specifications of the AMSEC Premium Door Organizer
Various see-through pouches and zippered pockets to store valuables.
Two rows of holders for storage of choke tubes, small flashlights and ammo.
Two full-width pistol storage systems to accommodate multiple handguns. Comes with two holsters. Additional holsters can be purchased separately.
A long gun storage system that accommodates one long gun. Includes the AMSEC exclusive "no hassle" quick release band.
PDO Size: 48-1/2"H x 13"W
Maximum Door Panel Height & WidthAdjustable from:
48-1/2" H to N/A / 14-3/4" W to 19" W
Maximum Door Panel Height & Width with Extension Strap KitAdjustable from:
48-1/2" H to N/A / 14-3/4" W to 19" W
The AMSEC Premium Door Organizer (PDO) maximizes storage space, offers quick access to commonly used items, and are easily installed on any gun safe.
When it comes to Door Panel Organizers getting the right fit and style for your Gun Safe is crucial. The American Security Premium Door Organizer Model 13 comes equipped with 2 pistol holsters and space for more, a long gun storage system, Zip Pockets, Choke Tube Holders, and various see-through pouches. The panel itself is made of a very high quality material that looks great on the door of your safe.

There are three sizes available so just measure the inside width of your door panel to determine which will fit your safe. The size of the Model 13 is 48-1/2" H by 13" W and adjusts to a maximum door panel width of 48-1/2" H to 19" W. If you need to add height or width there is an additional extension strap kit available, however not included.
Order Now! Email
[email protected]

net
or call us at 1-800-345-6552 for professional consultation.
We ship safes to the entire United States.