AMSEC Gun Safe Light Kit HIWL120 LED AC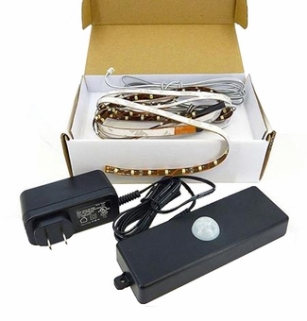 American Security's HIWL120 kit includes two 39-inch light strips with 120 high-intensity LED lights with a built-in motion detector. It turns itself on when it senses motion (like simply opening the safe door) and then turns itself off 30 seconds after no more motion is detected. The AC power cord is six feet long.

Amsec's HIWL120 LED light kit runs on AC power and contains everything you need to let you illuminate the inside of your safe exactly how you like it. It's gorgeous, bright light that you can keep hidden, yet illuminates the deepest nooks and crannies of the biggest safes.
Absolutely no tools are required for installation. The light strips have heavy duty 3M tape on the back which will adhere to any safe interior surface, whether fabric or steel. The two strips plug into the sensor box, as does the power supply jack. The sensor box also adheres to any surface of the safe. If you have a safe with AC outlets already inside, simply plug in the HIWL120 and put on your sunglasses!

If your safe does not have the electrical access installed, consider adding an aftermarket AC power outlet kit to your gun safe and you will be able to plug in this kit, plus any chargers, dehumidifier rods, watch winders, etc. that you might need. Also available by Amsec is a battery pack that will keep your lights shining for months.

Adding the HIWL120 LED power light kit sheds a whole new light in your safe!
Order Now! Email
[email protected]

net
or call us at 1-800-345-6552 for professional consultation.
We ship safes to the entire United States.