AMSEC Electronic Lock ESL20XL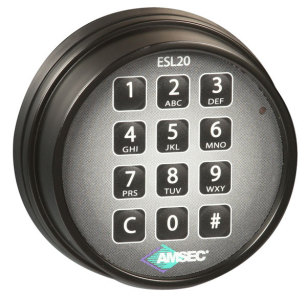 ESL20XL Features:
Time Delay Mode: Delays can be set from 1 to 99 minutes.
Multiple User Mode: When enabled, one Master code and eight user codes are available with full supervisory control and code management.
Dual Control Mode: The lock can be programmed to require two combinations to open for added security.
Armored Car Override: When enabled, allows an armored car service to bypass Time Delay.
External A/C Power: Provides power for unlimited use with battery power as backup.
Control Port: Turn the ESL20XL on/off with an Access Manager, Alarm System or other device.
Optional Expansion Modules:
Provides these additional capabilities on the ESL20XL:
Duress (Silent Signal) Alarm Output. Provides relay output for alarm system connection.
External connection for A/C power transformer on ESL20XL and ESL10XL.
External connection for control port.
Provides for connection of one or two ESL20XL locks.
All the ESL20XL features are programmed from the keypad. The Expansion Modules provide convenient screw terminal and slip spade connections for field wiring by the installer.A/C Power can be connected to the ESL10XL and ESL20XL lock (with the ESLAC kit) or an Expansion Module (with the ESLTFMR kit). Wiring, conduit and attachment hardware is provided with all optional kits.
The ESLXL SERIES locks offer unrivaled value in electronic safe access. The ESL20XL locks have the best blend of features and function in Electronic Safe Locks. The ESLXL SERIES offer an attractive metal die-cast keypad housing with an alpha-numeric slanted keypad. The ESL10XL is a basic keypad lock for home and office applications. The ESL20XL offers advanced features necessary for commercial applications.
Order Now! Email
[email protected]

net
or call us at 1-800-345-6552 for professional consultation.
We ship safes to the entire United States.