American Security Pharmacy Safe PSSW-28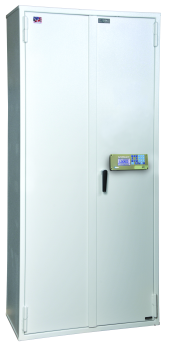 SAFE SPECIFICATIONS AND FEATURES
Ext. Dimensions: 77.00" H x 36.75" W x 18.00" D
Weight: 565.00 lbs
Two outer doors made of high strength steel with four to six heavy duty hinges and a two-way locking system.
Doors are secured by the SafeWizard Access Control System.
The safe comes with 5 adjustable shelves.
Optional drawers available to securely store back stock of (CII) controlled drugs. Each drawer is equipped with 12 adjustable compartments, heavy-duty ball bearing suspension glides and is secured by the ESL20XL electronic lock or Medeco high-security key lock.
The safe is provided with 4 anchor holes and hardware to secure it to the floor.
AMSEC's complete line of Narcotic safes offer a great solution for keeping your high-value, high-target medications and facility safe from the devastating occurrence of a robbery, burglary or internal theft.

The SafeWizard® electronic safe controller is a state-of-the-art electronic product for use in controlling and auditing access to safes. Designed to prevent burglaries and internal theft, the SafeWizard® controls and documents each access to the safe. Based on contemporary high speed processors, unique user friendly software techniques and ingenious application ideas, this system surpasses all other safe access control systems.

Order Online Now, Email [email protected] or call 1-800-654-5213 for professional consultation with a Lacka Safe Representative.
We ship safes to the entire United States.