American Security Key-Lock Pharmacy Safe PSK-9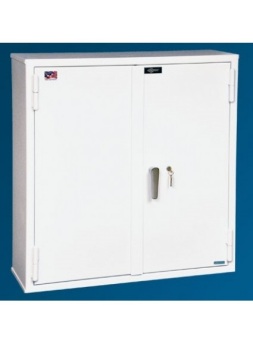 SAFE SPECIFICATIONS AND FEATURES
Ext. Dimensions 38.50" H x 36.25" W x 12.00" D
Weight: 245 lbs
Two outer doors are secured by a high security Medeco® keylock. Made of high strength steel with six to four heavy duty hinges and a two-way locking system.
This safe comes with 2 adjustable shelves.
Optional drawers available to securely store back stock of (CII) controlled drugs. Each drawer is equipped with 12 adjustable compartments, heavy-duty ball-bearing suspension glides and is secured by the ESL20XL electronic lock or high security Medeco® keylock.
AMSEC's complete line of Pharmacy safes offer a great solution for keeping your high-value, high-target medications and facility safe from the devastating occurrence of a robbery, burglary or internal theft.
Choose from several models that are ideal for small to larger sized pharmacies, hospitals or health care facilities.
Order Online Now, Email [email protected] or call 1-800-654-5213 for professional consultation with a Lacka Safe Representative.
We ship safes to the entire United States.