Megasafe HS Series 2218 TL-15 Equivalent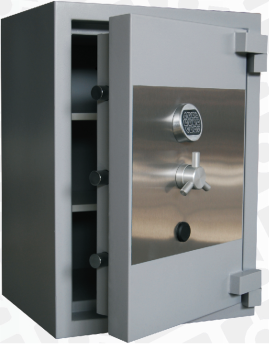 Standard Features:
Door: Overall thickness 5 ½"
Body: Overall thickness 2 ¾"
Anti Burglary Components:
Hard plate to deter drilling.
Independent re-locking device.
Solid steel handle designed to shear off under attack.
Massive 1 3/8 " round chrome plated locking bolts.
Full length locking bar on hinge side of safe to deter prying attacks.
Two anchoring hole in base for easy bolt down.
3 way locking bolts.
Fire and Burglary Labels:
Manufacturer 350° 2 Hour Fire Label
Equivalent to TL 15
TL 30 lock mechanisms
Locks:
UL Group 2 Combination Lock
High Security Mauer Key Lock
TL 30 lock mechnisms
The all new HS Series is designed and constructed to withstand the impact of burglary and fire, unlike any safe in its class! This TL-15 Equivalent safe is perfect for storing both valuables and documents.
Model
Inside Dimensions


inches

Outside Dimensions


inches

Capacity

Total
Weight
lbs.
H
W
D
H
W
D
ft.³
in.³
HS 2218
21.6
17.7
13.4
27.5
23.6
21.6
3.7
6,522.45
816
Order Now! Email hookway@optonline.net or call us at 1-800-345-6552 for professional consultation.