Gardall Safe GBF3318 Burglary and Fire Safe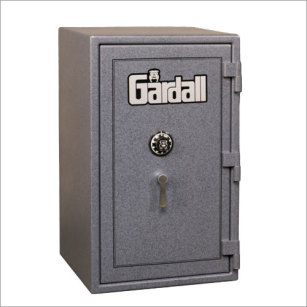 Standard Features:
Door: 1½" profile door panel with an overall thickness of 4 inches, insulated for protection against fire, with a "B" burglary rating.
Body: 1/8" plate steel with 2½" of insulation and a metal inner shell.
Anti Burglary Components:
Hard plate to deter drilling attack.
Independent re-locking device.
Steel handle designed to shear off under attack.
Three one inch round chrome plated locking bolts.
Full length locking bar on hinge side of safe to deter prying attacks.
An anchoring hole in base for bolt down. (hardware included)
Intumescent* seal to ensure a positive door seal in case of fire.
Fire and Burglary Labels:
U.L. Residential Security Container Burglary Label (RSC)
Manufacturer 350° 1 Hour Fire Label
All Gardall GBF safes were tested by the manufacturer along side a U.L. listed one-hour fire safe in an independent fire testing facility. The GBF safe actually outperformed the U.L. fire safe by 15 minutes. The exterior of the safe was heated to 1700F for one hour and during that time the interior temperature of the safe was less than 270F.
Outside Dimensions
H W D

Inside Dimensions
H W D
Order Now! Email
[email protected]

net
or call us at 1-800-345-6552 for professional consultation.
We ship safes to the entire United States. White Glove Installation also available.