Gardall Safe 171718/2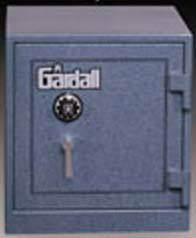 Features:
· U.L. Two Hour Fire Rating: Class 350
· Furnace Tested at 1850 Degrees. Safe's interior temperature stayed less than 350 Degrees for 2 hours
· 4 1/4" thick door with recessed anti-pry design. Safe walls are 2 1/2" thick.
· UL listed Group II high security mechanical lock.
· Two 1" diameter round active bolts that extend deep into the safe's body
· Center bolt down hole with hardware included for easy installation
· Solid chrome-plated handle.
· Independent re-locker and hard plate to resist drilling attack on locking mechanism.
· Lifetime replacement guarantee in event of a fire.
· 1 Shelve with quality carpeted interior to protect jewelry and valuables.
Statistics show that if a company's records are lost in a fire, 17% can no longer produce a financial statement, 14% suffer a reduced credit rating, and 43% go out of business completely. No business or home is safe from fire. Your important records and possessions are only as safe as the quality of protection you provide for them. With Gardall fire resistive safes, you can be confident your records will survive.
Model

Outside Dimensions
H W D

Inside Dimensions

H W D

Cubic
Feet

Weight
(lbs.)

Shelves

Retail
Price

171718/2

25" 23¼" 25¾"

18" 18" 17¾"

3.33

487

2

$1,795.00
Order Now! Email [email protected].net or call us at 1-800-345-6552 for professional consultation.
We ship safes to the entire United States. White Glove Installation also available.