AMSEC Fire Safe FS2215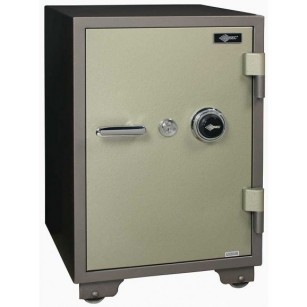 Safe specifications and Features:
External Dimensions: 27.56" H x 19.75" W x 19.25"D
Internal Dimensions: 17.75" H x 11.63" W x 13.50" D
Interior Cubic Feet: 1.61
Weight: 225 lbs
U.L. Listed 350°F 1-Hour fire rating.
Model FS2215 offers a Group 2 combination lock with a Spyproof dial and ring, one (1) key-lock drawer, one (1) adjustable shelf, four (4) rolling casters for ease of movement and additional chrome "L" handle.
Automatic relocking device triggered by force entry attempt.
Handle operated side, top and bottom locking mechanism incorporating four steel chromed locking bolts.
Two steel deadbolts prevent door removal if hinges are removed during a forced entry attempt.
Ball bearing hinges for ease of operation.
Attractive two-toned sage finish.
AMSEC'S FS2215 Fire Safe provides burglary and fire protection in a size that makes it perfect for both commercial and residential applications.
Order Now! Email [email protected]net or call us at 1-800-345-6552 for professional consultation.
We ship safes to the entire United States.