AMSEC Fire Safe FS1814E5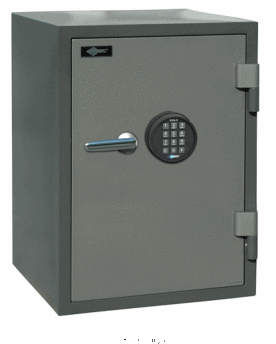 Safe specifications and Features:
External Dimensions: 23.63" H x 18.88" W x 18.9" D
Internal Dimensions: 18.25" H x 13.13" W x 12.38" D
Interior Cubic Feet: 1.72
Weight: 187 lbs
U.L. Listed 350°F, 1-Hour fire rating.
5/8" thick door with two-toned sage finish.
Handle operated side, top and bottom locking mechanism incorporating (4) 1" chrome plated locking bolts.
Two deadbolts prevent door removal if hinges are removed during a forced entry attempt.
Comes standard with the NEW E5 electronic lock which offers an illuminated keypad with one 9-volt battery.
Combination changes are fast and easy.
FS1814E5 Features: One (1) internal anchor hole and hardware, (4) removable rolling casters, (1) adjustable shelf and (1) top mounted key lock drawer.
An economical solution for fire protection, the FS1814E5 is U.L. listed 350 degrees F for 1 hour and has a state-of-the-art, easy to use E5 electronic lock.
Order Now! Email [email protected]net or call us at 1-800-345-6552 for professional consultation.
We ship safes to the entire United States.