Amsec Fire Rated Burglary Safe BF1512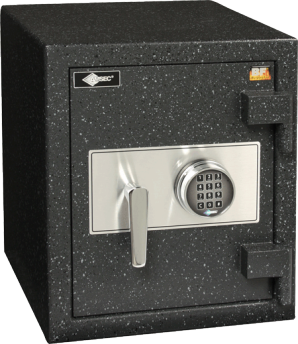 SAFE FEATURES
Fire Protection: UL Listed Class 350 Degree One Hour Fire Label
Burglary Protection: UL Residential Security Container with "B" rated heavy duty construction
Safe Door: 3½" thick, consisting of ½" plate steel with a unique proprietary fire and burglary resistant material. This safe has a dual seal design utilizing a silicone foam seal with a heat-expanding intumescent seal.
Safe Body: 2 5/8" thick, consisting of 1/8" outer and inner steel plates creating a burglary resistant structure enclosing a unique proprietary fire resistant material.
Locking Bolts: Three massive 1" diameter solid steel chrome-plated locking bolts.
A full length dead bar locks deep into the body preventing door removal during a forced entry attempt.
Lock: U.L. listed Group II lock with spring-loaded auxiliary relock device. Electronic Lock also available.
Heavy duty steel hinges provide easy smooth door operation.
Bolt Down: One anchor bolt hole. Mounting hardware is provided to securely anchor safe.
Granite finish with chrome hardware pictured. Sandstone beige with brass hardware also available.
Lifetime fire replacement and 1 year parts and labor warranty.
The AMSEC BF® SERIES offers a unique design that combines all the security features of a burglary safe and the peace of mind achieved with a fire safe. The industry's first U.L. Listed, fire-rated burglary safe offers an affordable solution when burglary and fire protection are an essential part of your buying decision!
During Underwriter's Laboratories grueling testing procedures, the BF® SERIES earned the U.L. Listed Class 350°F One Hour Fire Label and an E (RSC) Residential Security Container Burglary Label.
| | | | | | | |
| --- | --- | --- | --- | --- | --- | --- |
| | | | | | | |
| BF1512 | 20.25 x 17.25 x 18.75 | 3.5" | 2.625" | 288 | 2,340 cu. in. | 3 |
BF® Safes Lifetime Replacement Warranty:
If your BF® safe is exposed to fire and failed to protect the contents, your BF® safe will be replaced free of charge. Just return the safe freight prepaid to the factory accompanied with the fire report. Contact your dealer for further details.
Order Now! Email
[email protected]

net
or call us at 1-800-345-6552 for professional consultation
.
We ship safes to the entire United States.