AMSEC Burglary Safe BLC3018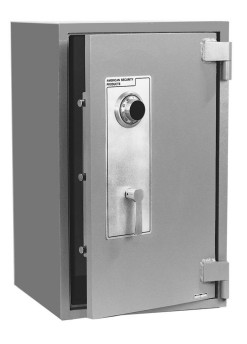 Safe Specifications:
Outside: 31.00" H x 19.00" W x 20.00" D
Inside: 30.00" H x 18.00" W x 16.00" D
Interior Cubic Feet: 5.00
Weight: 550 lbs
Burglar Rating: C-Rate

Standard Features:
Door:
1" ("C" Rate) steel pryresistant recessed door.
U.L. listed Group II key changeable lock, with relock and 1 million possible combinations.
Additional spring loaded relocking device, activated by a punching attack.
Locks and relocks protected by a large carburized hardplate.
A handle activated locking mechanism consisting of three 1" chromed steel locking bolts.
Solid steel full length dead bar prevents door removal if hinges are removed during a forced entry attempt.
Adjustable ball bearing hinges.
Body:
1/2" continuously welded ("C" rate) solid steel body.
Body reinforcing frame gives the appearance of 1" thick walls to discourage attack.
(2) Adjustable shelves.
Attractive Gray textured finish. Other colors available.
Custom sizes, interior options and high security features available.
Left swing door optional.
Order Now! Email [email protected]net or call us at 1-800-345-6552 for professional consultation.
We ship safes to the entire United States.