Gardall Gun Safe GF6040
GF6040 Safe Features:
Double Layer of Fire Protection
3-way locking bolts - 7 active 11
⁄2" bolts
U.L. Group II lock with spyproof dial
2 layers 5/8" U.L. rated fire board insulation
5 spoke handle
4 anchoring holes in bottom
Capacity: 47 gun capacity
U.L. Approved Intumescent door seal expands
to 7X original size
Fire tested at 1200°F for 55 minutes
3 dead bolts on hinge side
Add 3" to depth for handle
Powder Coated Matte Finish: Black, Maroon or Hunter Green.
4 Anchoring Holes with Hardware included.
LaGard Group II combination lock standard.
S&G Type I Electronic Lock
Model

Outside Dimensions
H W D

Inside Dimensions

H W D

Approx.Weight (lbs) .

GF-6030

59 " 30" 26"

55" 371 ⁄4" 20"

670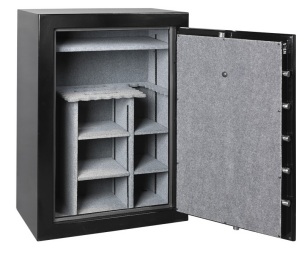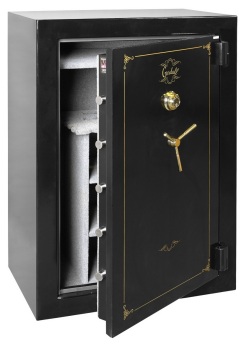 Order Now! Email [email protected].net or call us at 1-800-345-6552 for professional consultation.
We ship safes to the entire United States.