AS Floor Safe B3700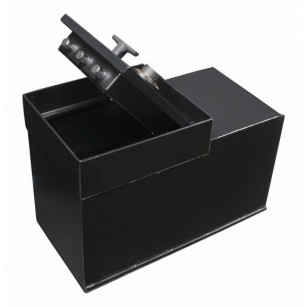 BRUTE Safe Standard Features:
Black textured body and door.
Large brass plated dial and black matte finish dial ring with matching handle.
3M Lexan escutcheon plate covers the entire door surface.
End user can get combination changes by just bringing the door to a locksmith.
Attractive design offers strong reliable welds to protect against burglary attacks and reduce possible leakage.
Standard lock is the ESL5 Illuminated Electronic Lock.
U.L. listed Group II key changeable lock, with relock and 1 million possible combinations as an additional option.
An additional spring loaded relocking device, activated by a punching attack.
Lock and relocks are protected by a large carburized hardplate.
A handle activated locking mechanism consisting of five 3/4" diameter locking bolts. Each one is drive resistant, chromed steel with a long throw.
One piece heavy duty dead bar behind hinge prevents removal of door even if hinges are removed during a forced entry attempt.
Door is designed to fit full body size, which greatly reduces any possible pry points.
Doors are interchangeable within product group.
Body:
Oversize floor plate ensures strong installation in concrete.
Flush cover plate.
Solid steel hinge mechanism using 3/8" diameter steel hinge pins and internal mounting bolts.
| | | | | | |
| --- | --- | --- | --- | --- | --- |
| MODEL | Internal Dimensions | External Dimensions | Clear Door | Cu. In. | Weight |
| B3700E5 | 12.25 x 23 x 14 | 12.75 x 24 x 17.5 | 10.75 x 11.125 | 3785 | 145 |
Order Now! Email [email protected]net or call us at 1-800-345-6552 for professional consultation.
We ship safes to the entire United States.