Amsec Floor Safe T625DD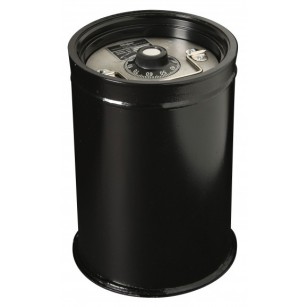 SAFE FEATURES
Strong Burglary Resistant C Rate Heavy Duty Round Door

U.L. Group II High Security lock with randomized opening positions defends against drill attacks.
Drive resistant dial and spindle blocks sledgehammer attacks.
Door, 6-5/8" clear opening, is 1" thick solid steel.
Door is securely closed by three 5/8" drive resistant locking bolts.
A positive relocking device jams locking mechanism in the event of a forced entry attempt.
Recessed locking mechanism protected by a large carburized hardplate.
Heavy duty "B" rate solid steel body with reinforced door jamb.
Available in double compartment models (DD) with a key locking inner door.
Inside slot to bottom compartment on all (DD) models.
T625DD MAJOR Tubular Body, Round Lift-out Door Floor safes provide excellent burglary protection when properly installed in concrete.
T625DD Safe Specifications:
Internal Dimensions: TOP: 8.25 DIA x 4.5; BTM: 8.25 DIA x 5.25
External Dimensions: 8.625 DIA x 13.75
Clear Door: TOP: 6.625 DIA; BTM: 6.375 DIA
Cubic Inches: TOP: 241 BTM: 285
Weight: 54 lbs
Order Now! Email [email protected]net or call us at 1-800-345-6552 for professional consultation.
We ship safes to the entire United States.