Gardall Front Drop Safe LCF2014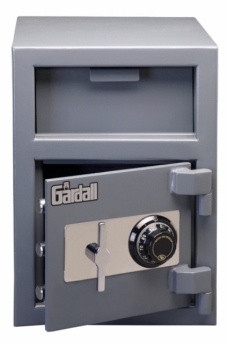 SAFE FEATURES
Steel Construction: Strong 1/2" Steel Plate Door and 1/8" Thick Body
High Security Lock: Sargent & Greenleaf High Security Mechanical Lock (Optional: Electronic Lock)
Re-Locker: Independent Re-locker protecting locks & boltwork
Depository: Anti-fish sawtooth baffle
Bolt Down Installation: 4 anchor holes pre drilled for bolt down to floor
Deposit Door Size(inches): 10 1/2" x 11"
Overall Outside Dimensions(inches): 20" High x 14" Wide x 14" Deep
Weight: 80 lbs.
SAFE DETAILS
Good for cash management businesses
Mailbox Drop Design
Great for mounting in delivery vehicles, restaurant offices, home offices, and more.
Order Now! Email
hookway@optonline.net
or call us at 1-800-345-6552 for professional consultation.
We ship safes to the entire United States.