Gardall Depository Safe LCF3214 Double Door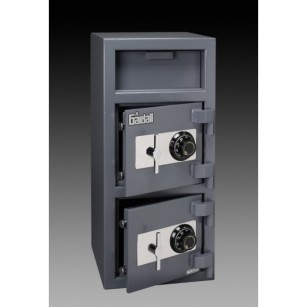 Safe Features:
½" plate steel door.
1/8" thick body.
Independent re-locker.
Anti fish sawtooth baffle.
Excellent for mounting in delivery vehicles.
Mounting holes pre-drilled.
Available in 4 sizes.
Laser cut door for exact fit.

Safe Specifications:
External Dimensions: 32.00" H x 14.00" W x 14.00" D
Internal Dimensions: 11.00" H x 13.00" W x 11.00" D
Top Compartment: 11" H x 13" W x 11" D
Bottom Compartment: 12" H x 13" W x 11" D
Interior: 0.91 ft3
Weight: 174 lbs
Burglar Rating: B-Rate
Order Now! Email [email protected]net or call us at 1-800-345-6552 for professional consultation.
We ship safes to the entire United States.