DS-3315-G-EE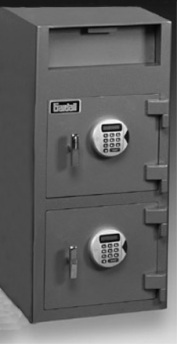 Standard Features
· ½" plate steel door
· 1/4" thick body
· Independent re-locker
· Anti fish sawtooth baffle
· Excellent for mounting in delivery vehicles
· Mounting holes pre-drilled
· Available in 3 sizes
· Laser cut door for exact fit
Double Door
· Solid steel locking bar to prevent door removal
· Front load style for added security and ease of deposits
· Electronic welding for strength and durability
· Powder coated paint for durability
IMPORTANT! These safes are built with the intent of keeping large bills and valuables out of unprotected areas, until deposits can be made. They are not meant to be used as unprotected storage safes for overnight, or lengthy periods of time. Discuss your need with a Lacka Safe professional.
Model

Outside Dimensions
H W D

Depository Door H W

Inside Dimensions
H W D

Weight (lbs.)

DS-3315-G-EE

32¼" 15¾" 15¾"

3" 12"

10¼" 12½" 14½"

237
Order Now! Email
hookway@optonline.net
or call us at 1-800-345-6552 for professional consultation.