Small Under Counter Drop Safe by Amsec TB0610-1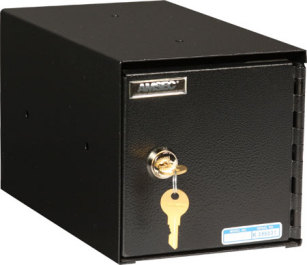 SAFE FEATURES
Heavy gauge solid steel
construction.
Full width deposit slot over door equipped with an "anti-fish" saw tooth baffle to guard against pilferage or fishing.
Heavy-duty piano hinges.
Available in three models with eight different lock options to fit your specialized security requirements.
Units can be bolted together utilizing bolt holes.
Interchangeable doors allow flexible means of changing locking mechanisms without replacing the entire unit.
Two anchor holes provided on all four sides.
Attractive and durable powder coated black finish.
SAFE SPECIFICATIONS
Inside Dimensions
Height: 5.88"
Width: 5.88"
Depth: 8.38"
Cu. Ft.: 0.17'
Outside Dimensions
Height: 6.00"
Width: 6.00"
Depth: 10.00" 6.00
Order Now! Email
hookway@optonline.net
or call us at 1-800-345-6552 for professional consultation.