DST2731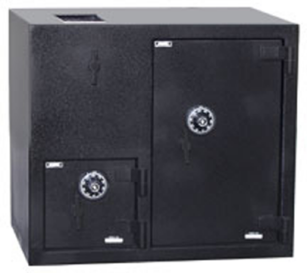 FEATURES:
Body:
Strong, formed "B" Rate construction made of A36 solid steel plate for improved security and appearance.
Formed door jamb for increased resistance to sledgehammer attack.
Four anchor bolt holes are standard.
Hopper:
2014/2714 are available w/ reverse hopper.
Large package sizes: (Top Load Rotary):
4-3/4"D x 4-3/4"W x 10"L
(Front/Reverse Load): 4"D x 2-3/4"W x 10-1/2"L
Recessed, heavy duty 3/16" construction (1/4" door).
Protected by dual "anti-fish" baffles.
AMSEC's DS series Depository safes are designed to provide immediate deposits and secure storage for cash, jewelry, and miscellaneous valuables. Deposits can be made through the top-loading rotary hopper.
Additional Features: Wide Body Model (2731)
Unique space-efficient, side-by-side design creates full depth depository and large storage compartment.
Accepts cash trays up to 13" x 18".
Optional coin rack available on storage compartment door.
Model
No.

Inside
H x W x D

Outside
H x W x D*

Door
Opening

Cubic Inch
Capacity

Wt.
Lbs

DST2731

(left) 18-1/2 x 14-3/8 x 18

27-1/4 x 30-3/4 x 21

(left) 9 x 9-7/8

4,787

285
Order Now! Email
hookway@optonline.net
or call us at 1-800-345-6552 for professional consultation.