AMSEC BWB4020FL Wide Body Depository Safe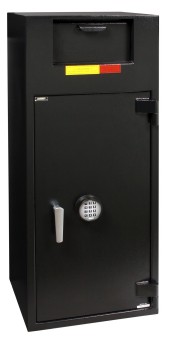 BWB Standard Body Features:
Door: Massive 1/2" thick A36 solid steel plate.
Formed high tensile steel body and jamb construction to maximize protection against pry attack.
Reinforced internal jambs on all four sides to provide protection against sledgehammer attack.
U.L. listed Group II, key changeable combination lock.
3-way locking mechanism consisting of five 1" diameter chromed steel locking bolts.
Bolt detent system engages boltwork automatically.
Locks and relocks protected by a large carburized hardplate.
Auxiliary spring-loaded relocking devices.
Convenient, door-mounted, recessed coin rack.
(4) Anchor Bolt holes with hardware included.
(3) adjustable shelves.

Interior Locker Features:
Heavy 1/4" steel door, with Medeco® high security camlock.
Large clear door opening: 6"H x 12"W.

Front Load Depository Features:
Recessed heavy duty 1/8" construction with 1/8" door.
Protected by dual "anti-fish baffles."
Large package capacity: 3-1/2" x 9" x 11-1/2" (maximum).
Inside locker height restricted to 6".
Safe Specifications:
External Dimensions: 49.75" H x 20.00" W x 20.00" D
Internal Dimensions: 29.00" H x 19.75" W x 17.00" D
Interior Cubic Feet: 5.63
Weight: 334 lbs
Burglar Rating: B-Rate
Lock Selection:
• Dial Combination Lock
• Digital Electronic Lock (ESL10XL)
• Digital Electronic Lock (ESL20XL)
• S & G 6120-222 9 User Digital Electronic Lock

Order Online Now, Email [email protected] or call 1-800-654-5213
for professional consultation with a Lacka Safe Representative.
We ship safes to the entire United States.