LACKA SAFE SHOWROOM
400 Meadow Lane Carlstadt, NJ 07072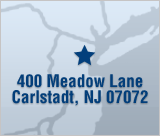 OUR NEARBY NEIGHBORS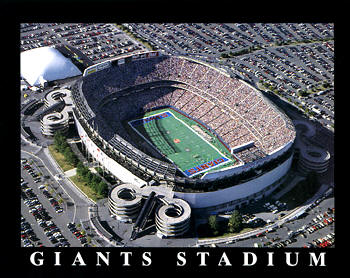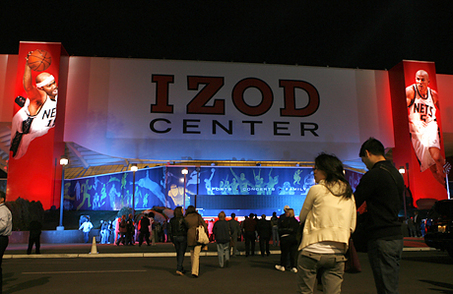 IF YOU KNOW HOW TO GET TO EITHER OF THESE TWO SPORTING VENUES THEN:
All you simply need to do is find the nearby EXIT
Washington Ave./Moonachie
CR-503
*Our store is 1 mile straight on this highway. Look for the big yellow SAFES sign below.*
FIND DETAILED DIRECTIONS BELOW
Our safe showroom is in the heart of "The Meadowlands" of Northern New Jersey, just minutes away from New York City. If you know where Giants Stadium is, then you're about a mile away from stopping by. Our building is 400 Meadow Lane, on the corner of Washington Ave. and Meadow Lane in the city of Carlstadt located in Bergen County New Jersey. Look for our neighbor landmarks like the Grasshopper Restaurant, or Shawnee Trucking. We have a large yellow sign in the air, a ground sign that tells you where to turn into our parking lot, and we literally have a safe standing outside for you to locate us. If all else fails, call us at 800-654-5213 so we can guide you.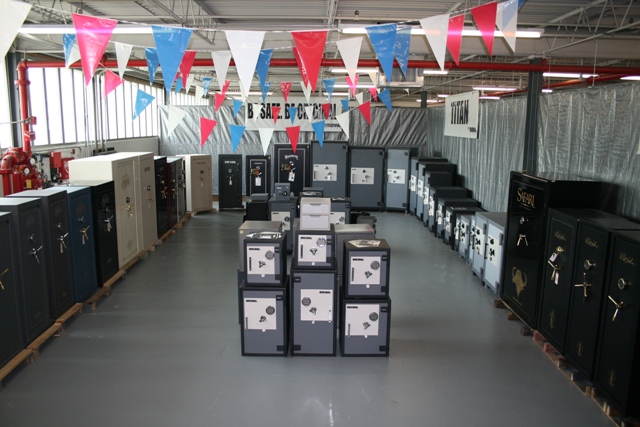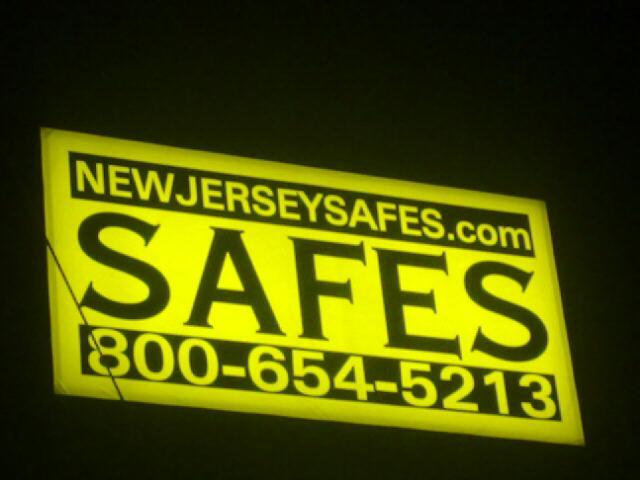 From Paramus (New Jersey Turnpike South)
1. Take NJ-17 S to ramp toward Wood-Ridge/Moonachie. 7.3 mi
2. Turn Left onto Moonachie Ave/CR-36 1.6 mi
3. Turn Right onto Washington Ave/CR-503. 0.5 mi
4. End at 400 Meadow Ln.Carlstadt, NJ07072
From Lincoln Tunnel (Manhattan)
1. Take the Lincoln Tunnel ramp toward New Jersey. 0.1 mi
2. Merge onto I-495 W. 3.4 mi
3. Merge onto NJ-3 W toward Meadowlands Sports Complex/
Garden State Parkway/Clifton. 2.5 mi
4. Keep right to take NJ-120 N toward E. Rutherford. 1.1 mi
5. Stay straight to go onto Washington Ave/CR-503. 0.8 mi
6. End at 400 Meadow Ln. Carlstadt, NJ 07072
From Trenton (New Jersey Turnpike North)
1. Take NJ-129 S. 2.0 mi
2. NJ-129 S becomes I-195 E. 5.6 mi
3. Take the N.J. Turnpike exit, Exit 6. 0.7 mi
4. Merge onto N.J. Turnpike N via
the exit on the left toward Newark/New York. 12.8 mi
5. Keep right to take I-95 N/N.J. Turnpike N toward Cars/Trucks-Buses. 32.9 mi
6. Keep Left toward I-280/Rt-3/
Meadowlands Sports Complex/Exits 15W-18W/Geo Washington Bridge. 6.8 mi
7. Take the Rt-3 exit, Exit 16W toward Secaucus/Rutherford/Sports Complex 0.8 mi
8. Take the Service road Eastbound ramp toward
Secuacus/Lincoln Tunnel/Rt-3 E. 0.2 mi
9. Turn slight right onto S Service Rd. 0.3 mi
10. Merge onto NJ-120 N toward Arena. 1.4 mi
11. Stay straight to go onto Washington Ave/CR-503 0.8 mi
12. End at 400 Meadow Ln. Carlstadt, NJ 07072
From Newark (New Jersey Turnpike North)
1. Take NJ-21/McCarter Hwy 0.8 mi
2. Turn right onto Bridge St. 0.1 mi
3. Bridge St becomes Harrison Ave/CR-508 0.2 mi
4. Merge onto I-280 E. 3.2 mi
5. Merge onto I-95 N/N.J. Turnpike N. 3.5 mi
6. Keep Left toward I-280/Rt-3/
Meadowlands Sports Complex/Exits 15W-18W/Geo Washington Bridge. 6.8 mi
7. Take the Rt-3 exit, Exit 16W toward Secaucus/Rutherford/Sports Complex 0.8 mi
8. Take the Service road Eastbound ramp toward
Secuacus/Lincoln Tunnel/Rt-3 E. 0.2 mi
9. Turn slight right onto S Service Rd. 0.3 mi
10. Merge onto NJ-120 N toward Arena. 1.4 mi
11. Stay straight to go onto Washington Ave/CR-503 0.8 mi
12. End at 400 Meadow Ln. Carlstadt, NJ 07072
From Holland Tunnel (Downtown Manhattan or Jersey City)
1. Holland Tunnel becomes 14th St. 0.3 mi
2. 14th St becomes NJ-139 W 1.2 mi
3. Take the exit toward US 1-9 N. 0.0 mi
4. Turn right onto Tonnele Ave/US 1-9. Continue to follow US 1-9. 2.6 mi
5. Turn slight left to take the RT-3 W ramp toward N.J. Turnpike/Rt-495 E/
Clifton/Lincoln Tunnel. 0.1 mi
6. Follow to RT-3 W. 2.7 mi
7. Keep right to take NJ-120 N toward E. Rutherford. 1.1 mi
8. Stay straight to go onto Washington Ave/CR-503. 0.8 mi
9. End at 400 Meadow Ln. Carlstadt, NJ 07072
From George Washington Bridge (Bronx or Northern Manhattan)
1. Keep RIGHT to take I-95 S toward G W BRIDGE/LOWER LEVEL/LAST NY EXIT (Crossing into NEW JERSEY). 2.6 mi
2. Keep LEFT to take I-95 EXPRESS LN S/NEW JERSEY TURNPIKE S toward I-80/GARDEN STATE PARKWAY/PATERSON. 2.5 mi
3. Take I-95 S/NEW JERSEY TURNPIKE S toward US-46/NEWARK. 0.8 mi
4. Merge onto I-95 S/NEW JERSEY TURNPIKE S via EXIT 68 toward US-46/THE RIDGEFIELDS. 0.6 mi
5. Take the US-46 exit, EXIT 68, toward THE RIDGEFIELDS. 0.2 mi
6 Keep LEFT at the fork in the ramp. 0.1 mi
7 Keep RIGHT at the fork in the ramp. 0.1 mi
8 Merge onto US-46 W. 0.8 mi
9 Turn SLIGHT LEFT onto US-46/SYLVAN AVE. 0.5 mi
10 Turn LEFT onto LIBERTY ST/CR-503. Continue to follow CR-503. 2.1 mi
From Staten Island (I-278 West)
1. Take NY-440 N via the ramp on the Left toward
Bayonne Br/I-278 W/Staten Is Expwy/Goethals Br. 0.3 mi
2. Merge onto I-278 W via exit 10W toward Goethals Br/Rt-440 S/
Outerbridge Crossing toward NJ. 3.7 mi
3. Take the I-95 N/Turnpike North exit on the Left. 1.0 mi
4. Merge onto I-95 N/New Jersey Turnpike N toward Cars/Trucks-Buses. 6.1 mi
5. Keep Left to take I-95 N/New Jersey Turnpike N toward I-280/Rt-3/
Meadowlands Sports Complex/Exits 15W-18W/Geo Washington Br. 6.8 mi
6. Take the Rt-3 exit, exit 16W, toward Secaucus/Rutherford/Sports Complex. 0.8 mi
7. Take the Service road Eastbound ramp toward
Secuacus/Lincoln Tunnel/Rt-3 E. 0.2 mi
8. Turn slight right onto S Service Rd. 0.3 mi
9. Merge onto NJ-120 N toward Arena. 1.4 mi
10. Stay straight to go onto Washington Ave/CR-503 0.8 mi
11. End at 400 Meadow Ln. Carlstadt, NJ 07072
From Philadelphia (New Jersey Turnpike North)
1. Take New Jersey Turnpike North toward New York. 39 mi
2. Keep right to take I-95 N/New Jersey Turnpike N
toward Cars/Trucks-Buses. 32.9 mi
3. Keep Left toward I-280/Rt-3/
Meadowlands Sports Complex/Exits 15W-18W/Geo Washington Bridge. 6.8 mi
4. Take the Rt-3 exit, Exit 16W toward Secaucus/Rutherford/Sports Complex 0.8 mi
5. Take the Service road Eastbound ramp toward
Secuacus/Lincoln Tunnel/Rt-3 E. 0.2 mi
6. Turn slight right onto S Service Rd. 0.3 mi
7. Merge onto NJ-120 N toward Arena. 1.4 mi
8. Stay straight to go onto Washington Ave/CR-503 0.8 mi
9. End at 400 Meadow Ln. Carlstadt, NJ 07072
From Stamford, CT (I-95 S)
1. Take I-95 S toward N.Y. City 29.9 mi
2. Keep right to take I-95 S toward G W Bridge/Lower Level 2.6 mi
3. Take I-95 S/New Jersey Turnpike S toward US-46/Newark. 0.8 mi
4. *Toll road* Stay on I-95 [New Jersey Tpke] (South) 4.6 mi
5. At exit 16W,
turn RIGHT onto Ramp (RT-3 / Secaucus / Rutherford / Lincoln Tunnel) 0.5 mi
6. Take the Service road Eastbound ramp toward
Secuacus/Lincoln Tunnel/Rt-3 E. 0.2 mi
7. Turn slight right onto S Service Rd. 0.3 mi
8. Merge onto NJ-120 N toward Arena. 1.4 mi
9. Stay straight to go onto Washington Ave/CR-503 0.8 mi
10. End at 400 Meadow Ln. Carlstadt, NJ 07072