High End Safes - Best, Strongest, Highest Security Rated Luxury TXTL60 Safes
SLS GEM ANTI-LANCE UL TXTL60 FEATURES & DETAILS
The Pinnacle of Protection - UL TXTL60 Label: The TXTL60 label is the most prestigous high security safe rating issued by Underwriter's Laboratories.
Rarest Jewelry Safe in the World: This High End TXTL60 safe can insure more valuables or merchandise than any other safe. This safe can potentially insure in excess of $10 Million.
Strongest Safe in the World: This is the cream of the crop in the history of safes. Professional safecrackers would dread going up against this TXTL.
Unique Resistance: While all other safes would cut like a warm knife in butter to the likes of a Thermic Lance, the Gem Anti-Lance by SLS can resist the intense heat (up to 8000 Degrees F) for an incredible 60 minutes.
Explosives: The Gem Anti-Lance can even withstand high explosives such as nitroglycerin, the key ingredient in dynamite (TNT).
Interior Dimensions(Inches): 35" High 25" Wide 19" Deep
Interior Design: Reserved for specifications of new owner. Options such as velvet shelves, woodgrain finished drawers, velour jewelry trays, watch winders, etc.
Exterior Dimensions(Inches): 47.25" High 37.25" Wide 36" Deep
Exterior Paint Finish: Reserved for specifications of new owner. Options such as high gloss finish, powder coated paint, even hiring an artist to create a mural.
Overall Safe Weight: 7,950 lbs. Yes, 7,950 lbs.
Installation: A strong floor and foundation is necessary for the TXTL. Our team of safe specialists can and will white glove install this safe to the resting spot you desire.
Order Now! Email hookway@optonline.net or call us at 1-800-345-6552 for professional consultation.
We ship safes to the entire United States.
ADDITIONAL FACTS
Safe Body & Safe Door Compositon: The Gem Anti-Lance Body is a One Piece Composite Body Casting. Both the Door and Body are comprised of sophisticated layered castings made with Copper/Zac Nuggets, and Stainless Steel/Zac Nuggets, cast as One Integral Unit. This unique Barrier Matrix encases on ALL Six Sides an additional layered wall of material designed to resist the Thermic Lance. The Walls are 6.13 Inches Thick, and the Door has an overall thickness of 12 Inches.
Two Lock Entry: Currently, there are two locks that need to be unlocked to enter the safe. The first lock is a high security mechanical lock, and the second lock is a high security key lock. Modificiations can be made upon request for time locks, fingerprint(biometric) locks, etc. Up to 4 Locks can be installed on this safe.
4 Way Moving Bolts: All 12 Locking Steel Bolts are a massive two inches thick each. Each steel bolt locks into its own receiver cup. Once in locked position, the safe becomes one integral unit, and frankly, a force to be reckoned with.
Manufacturer: Made by Security Lock & Safe Co. LTD. (SLS)
Location Made: London, England
Year Made: 1987
Previous Owner: Confidential but, let's just say a lot of the rarest diamonds in the U.S. were first imported by him.
Installation & Delivery: Installing a safe that weighs 4 tons is certainly no easy task. Luckily, Lacka Safe is at your service. The final resting spot for this incredible structure is for you to decide. We will place it where you want it.
Service & Warranty: Lacka Safe will be at your service for a lifetime. The safe comes with a lifetime warranty for parts and labor. The team of Lacka Safe will always be available to service your Gem Anti-Lance.
Message from Lacka Safe: If ultimate peace of mind is what you desire, then look no further. If you are interested, do not hesitate to call our safe specialists at 1-800-345-6552 or email us [email protected].
MODEL 3525
A = Minimum dimension for clear opening -> 58.5"
B = Overall width with door opening at 180 Degrees -> 69"
C = Overall Depth with door at 90 Degrees -> 70.75"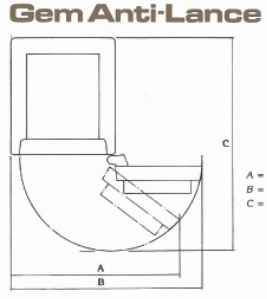 Click Logo Above for Brochure