AMSEC PS1210HD Pistol Safe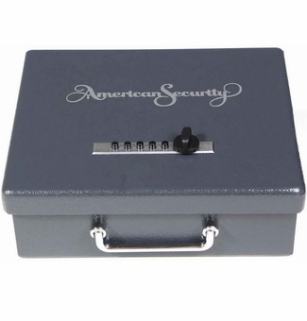 Specifications for the the Amsec PS1210HD Pistol Safe
10 gauge solid steel
Massive 3/16" solid steel door with two solid steel dead bars
Gas piston assisted door
The hinge is continuous and is welded
Simplex pushbutton mechanical lock
Pry resistant locking bolt
Charcoal gray textured finish with chrome hardware
Protective high density pluck foam-lined interior
4 pre-drilled bolt down holes
10.25" x 12.5" x 4.25"
The Amsec PS1210HD is Made in the USA
This heavy duty Amsec PS1210HD pistol safe will secure your handgun and keep it out of the kids or burgler's hands. It is a quick access pistol safe which employs a simplex mechanical lock to open it. It does not require a battery or keys to open the lock. You can reset your own combination into the lock and change it at a moments notice. It has a welded, continuous hinge which holds the door closed from prying.
It has a charcoal gray textured finish with chrome hardware. It includes a chrome carrying handle for easy movement. The Amsec PS1210HD is proudly made in the U.S.A.
Order Now! Email [email protected]net or call us at 1-800-345-6552 for professional consultation.
We ship safes to the entire United States.