AMSEC NF6036 Gun Safe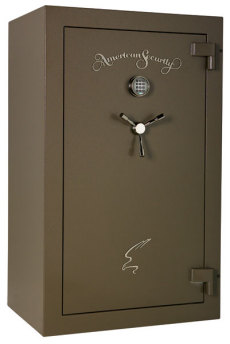 Specifications for the American Security NF6036
External Dimensions: 59" H x 36" W x 26" D

17-17-34 + 2 Gun = 36 Total Capacity

Weight: 977 lbs

Fire Rated 90 minutes at 1200°

UL listed Residential Security Container (RSC)

No Cost Lifetime Warranty against theft and fire

Painted and Assembled in the U.S.A.
The new American Security (AMSEC) NF series is quality packed, yet affordably priced. Replacing the older SF series, the NF line has been bumped up to a 90 minute fire rating at 1200° and proven to maintain interior temperatures of less than 350°.

With a 2 stage dual fire seal encompassing a silicone seal on the door jamb and an expandable Palusol seal on the door, you'll have no trouble keeping the smoke out as well.

In terms of security, the NF line is a U.L. Residential Security Container & California DOJ approved. The door features a 1/4" steel plate and the body is constructed of 11-gauge solid steel plate.

On the door you'll find a U.L. listed group II lock with a spy-proof, key-locking dial protected by a massive hard plate and two relocking devices. An electronic lock option is also available.
Once the correct combo is entered, the ultra smooth cam driven locking mechanism with increased handle rotation allows the door to open on the commercial grade, adjustable ball bearing hinges that can swing open a full 180°. As an additional feature, the handle will disengage under severe attack.

As the 5-point handle rotates, the 4-way boltwork with 9 active 1-1/2" chrome-plated bolts will begin to retract. The 5 deadbolts stay put as they combine to equal 14 total bolts.

Once inside, you'll notice the all-velour, all-in-one interior including back-cover and firewalls with 2 coverplates and 4 side shelves to allow storage on all sides of the safe. Theincluded premium door organizer (PDO) maximizes storage space and offers quick access to commonly used items like passports, handguns and other important documents/valuables. There's also a standard built in internal AC power port with a removable external power cord that will allow you to charge your electronics or use a dehumidifying rod.


The 4 pre-cut anchor holes make this safe a breeze to bolt down and with American Security's "No Cost" Lifetime Warranty against theft & fire, you have the ultimate peace of mind.

Hardware Color Options:
Chrome
Brass
Black Nickel

Interior:
Gun interior
All shelf interior +$208

Moisture Protection:
Eva-dry dehumidifier E-333(+$19.99)
Eva-Dry dehumidifier EVA500(+$29.99)
Dehumidifier rod DR-12 (+$29.95)
*Retail*
High Gloss - 3750$
Two Tone - 3600$
Textured - 3400$

Call 1-800-654-5213 or email info@lackasafe.com
for professional consultation with a Lacka Safe Representative.
We ship safes to the entire United States. White Glove Installation also available.