Gardall Floor Safe G700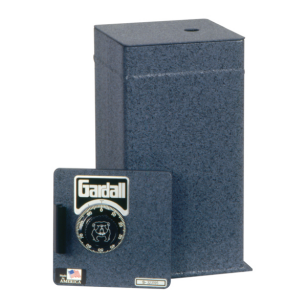 Features
Anti-theft safe with combination lock
3 live locking door bolts
Burglary resistant recessed door
0.44 cubic feet interior storage
Pyramid shape body for solid anchoring in floor
Hard plate between the lock and dial ring
Full length locking bar hinge side of door
Independent relocking device to deter forced entry
Door frame is reinforced on bolt side
Coil spring assist on all doors for ease of opening and closing
Dust cover included
B-Rated
UL Group II: Has a minimum of 1 million different combinations
Outside Dimensions
H W D

Inside Dimensions
H W D

Cubic
Inches

Approx
.Wt. (lbs.)

75/8" 75/8" 11¾"
The Gardall G-700-G-C Residential Floor Safe is a square tube safe built for residental use. Security features for the safe include a full length locking bar hinge on the side of the door, the hard plate between the lock and dial ring, a UL listed group II combination lock, and independent relocking device to deter forcible entry. This safe is designed to be buried in the floor and concealed by a dust cover under a rug or carpet. A coil spring assist is on the door for easy opening and closing of the safe and a dust cover is included.
Order Now! Email hookway@optonline.net or call us at 1-800-345-6552 for professional consultation.
We ship safes to the entire United States.