Gardall Microwave Safe MS119-G-E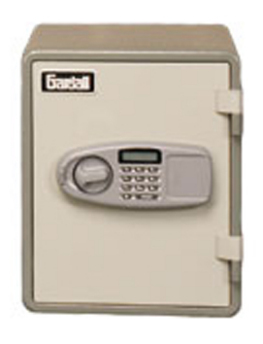 FEATURES
K.I.S. 1 Hour 350 Degree Fire Rating
Dual Security Key and Combination
Center Bolt Down (Hardware Included)
Powder Coated Paint for Increased Durability
Pull-out Tray for Storage
Gardall Warranty for all products
This safe is made to Gardall's exact specifications and brought to you with the same care and quality you have come to expect from Gardall. This fire safe has plated interlocking bolts that extend into the safe walls to prevent tampering and removal of doors. The doors are precision built of extra heavy steel, full swinging on heavy duty hinges with interlocking, tongue and groove closure on all sides of the door frame. All safes come with a center bolt down hole and hardware to anchor the safe down.
Model

Outside Dimensions
H W D

Inside Dimensions

H W D

Weight
(lbs.)

MS119-G-E

15½" 11¾" 12½"

12¼" 8¾" 8½"

61
Order Now! Email
[email protected]

net
or call us at 1-800-345-6552 for professional consultation.
We ship safes to the entire United States, but if you are located in New Jersey, New York, Connecticut, Pennsylvania, Maryland, and Delaware, you may be able to call us about our white glove installation.