Amsec Money Manager Two Door Drop Safe MM2820EE Top Drop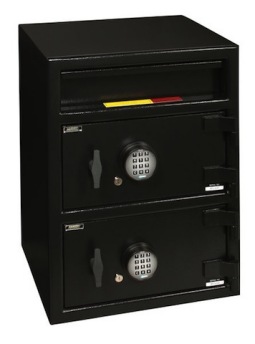 SAFE FEATURES
Heavy duty construction with ½" solid steel doors.
Both doors equipped with AMSEC's ESL20XL electronic lock.
Optional key locks available offering dual control.
Handle activated locking mechanism consisting of three 1" diameter locking bolts.
Bolt detent device automatically engages bolts when doors are closed.
Auxiliary spring-loaded relocking device, activated by a punch attack.
Locks and relocks are protected by a large carburized hardplate.
Formed door jamb and full length dead bar.
Coin racks are standard on inside of storage door.
Fish resistant depository drops accept bulk items, drop envelopes or bags.
Cash drawers and bulky items conveniently fit into both compartments.
Four anchor bolts and anchor hardware included.
Available as a "top drop," "center drop," or "three drop" model.
MM2820 front load and center drop hopper measures 16¼"W x 2"H x 3½"D.
Three individual color-coded 4" drops for shift control. Three deposit bins provided on "three drop" model.
Attractive Black textured finish.
Optional colors available upon request.
SAFE DETAILS & SPECIFICATIONS
Model
No.

Inside
H x W x D

Outside
H x W x D*

Door
Opening

Cubic Inch
Capacity

MM2820 Top-Drop

TOP 9½ x 20 x 17

BTM 11 x 20 x 17

28 x 20½ x 20

8½ x 16¼

8½ x 16¼

3,230

3,740
Order Now! Email
[email protected]

net
or call us at 1-800-345-6552 for professional consultation.
We ship safes to the entire United States.