HSS Diamond Vault UL TRTL30X6 TR-552420 Elite Safe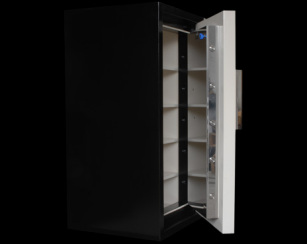 DIAMOND VAULT UL TRTL30X6 TR-552420 FEATURES
Burglary Rating: High Security Underwriters Laboratories (UL) TRTL30X6 – This safe can potentially insure up to $3 Million in jewelry, gold, coins, precious metals, narcotics, pharmaceuticals, cash, and other valuables.
Safe Door & Body – Door is a massive 6" Thick and the Walls are 3½" Thick.

Locking Mechanism -

Designed to prevent prying, torching and physical tool attacks. 3 Way Locking Stainless Steel Bolts lock deep into their own respective bolt chamber and the hinge side of the door is equipped with a stainless steel security locking bar that also interlocks into a receiving chamber.
Locks – High Security Manipulation Resistant Mechanical Locks with Spy Proof Dials Standard.
Glass ReLocker – Tempered Glass ReLocker is strategically placed behind the locks so that any type of attack to the locks will be backed up by the Glass ReLocker thus, preventing the door from opening.
Safe Model

Inside
Dimensions
(inches)

Outside
Dimensions
(inches)
Volume
(Cubic Capacity Inside)
Shelves
Weight
(Pounds)

Diamond

Vault

Height

Width

Depth

Height

Width

Depth

552420
55
24
20
63
32
31
15.28
4
3,500
Add an additional 2 1/2 inches to depth for handles and hinges.
TO ORDER THIS SAFE:
Order Now, Call 1-800-345-6552 or email [email protected]
for professional consultation.
We ship safes to the entire United States. White Glove Installation also available.