Megasafe HS Series TL15 Equivalent Model - 1212/13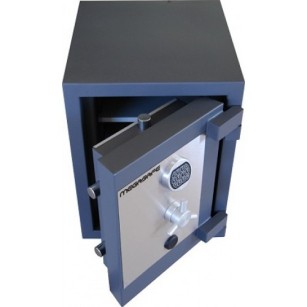 SAFE FEATURES
UL Rated Burglary and 90 minute fire protection
Inside Dimensions(inches): 12" High x 12" Wide x 13" Deep
Outside Dimensions(inches): 17.5" High x 17.5" Wide x 18.5" Deep

Cubic Feet: 1.1 ft.

Cubic Inches:

1,872 in.

Weight: 353 lbs.
The all new HS Series is designed and constructed to withstand the impact of burglary and fire, unlike any safe in its class! This TL-15 Equivalent safe is perfect for storing both valuables and documents.
Composite Burglary and Fire Resistant
Adjustable shelves
Can be equipped with 1 or 2 independent locks
2 mounting holes on bottom for bolting safe securely to floor
2 hour fire resistant rating class 350º
Door
Overall thickness of 6" with protective barrier of 2½"
​The combination of the barrier materials protect from excessive burglary attacks.
Body & Lock
Constructed out of inner and outer electrically welded steel plates.
The locks are equipped with a Group 2 U.L.-listed combination lock.
Has secondary optional U.L.-listed key lock.
U.L.-listed electronic key locks can also be equipped.
Email [email protected]net or call us at 1-800-345-6552 for professional consultation with a Hookway Safe Representative.