Gardall High Security Safe T15-5022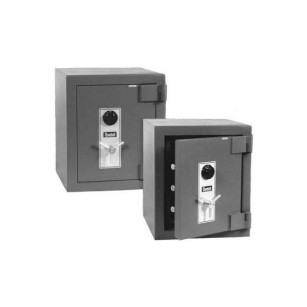 T15-5022 Safe Features:
TL15 - Tool Resistant for 15 minutes.
Door Construction: 5" slab High Density Fiber Reinforced Material.
Body Construction: 3" slab for High Density Barrier Material.
Cross locking relockers.
Punch resistant spindle, handle and lock.
Tempered glass relocking trigger.
Bridge mounted lock.
1 1/4" chrome plated locking bolts.
Group II listed dial combination lock (standard).
Four adjustable shelves.
Key lock available for dual custody at an extra charge. (upgrade)
Digital Electronic Lock available as an upgrade for an extra charge. (upgrade)
Massive heavy duty adjustable ball bearing hinges.
*TDR II - Special formulation of High Density Barrier Material with Fiber Reinforcement
T15-5022 Safe Specifications:

We ship safes to the entire United States.