Schwab Media Manager - Paper and Media Storage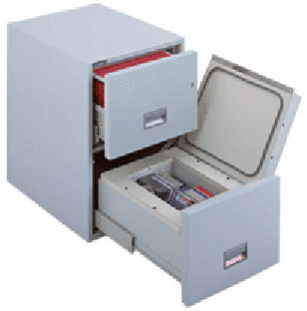 Call For Price
Out Of Stock
Model No.

No. of Drawers

Overall Dimensions
Approx. Shipping
Wt. (lbs.)

Spec.
Sheets

UL Class 350°
UL Class 125°
High"
Wide"
Deep"
Legal Size Files–Classified by U.L. as to fire resistance, Classes 350°and 125°, 1 Hour Rating
2C125
1
1
27-9/16
19-5/8
25
360
Specs
A.
All Class 350° legal size drawers are 10-1/4" high x 15-1/8" wide x 20" deep inside. (1.8 cu ft)
All Class 125° drawers are 6" high x 9-7/8" wide x 13-1/4" deep inside. (0.5 cu ft)
B.

Class 125° drawers must be hinged to open either to the right or to the left. Please specify right or left swing on your order.

C.
All Class 350° legal size drawers are slotted to allow the consumer the convenient flexibility of using either legal, A-4, folio or letter size hanging file folders. Hanging folder bars are included as a standard item for 350° drawers.
The Schwab Media Manager combines both paper and computer media protection into one cabinet. Available in the compact two (2) drawer model only, the Media Manager is the premier office storage solution for your data, media and vital record protection.
The paper record storage drawers are tested and rated by UL to be Class 350 - 1 Hr., indicating internal temperatures stay below 350°F when exterior temperatures reach 1700°F. During the same 1700°F test, media drawers were UL classified to maintain an internal temperature below 125°F without exceeding the 80 percent humidity level. This stringent standard is required to protect computer media. The construction of each file protects against magnetic interference as well.
FEATURES:
Recessed Handles (no more knee bumps)
UL 125 and UL 350 Fire Protection Rating
Insulite™ Fire Protection
Lifetime after-fire replacement warrany
CALL FOR PRICE 800-654-5213